Vehicles and rates
Leaders Limousines SARL - CH-1206 Geneva - Switzerland
Vehicles
Mercedes S5350L 4x4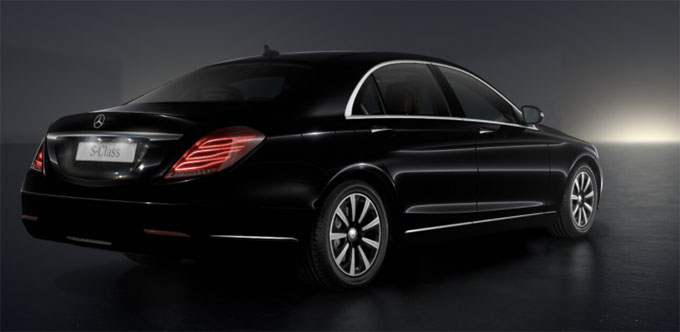 Luxury: Mercedes S350L 4×4 
Four wheel drive  for more security. Come with adjustable rear seats, separate rear AC, electric side and rear sun blinds, head-rests with cushion, panoramic glass roof that brightens the cabin and makes it feel more spacious.
On request : VIP : Maybach S Class. The ultimate in comfort, power and safety. For those who know their extra "must have" features.
Hotel client rate : between CHF 160.- and CHF 200.-/h.
NEW Mercedes Hybrid S580e
First Class : Mercedes Hybrid S580e L 4×4
New S Class Hybrid now available.
Combined power of gas and electric engines of 510PS, acceleration (0 to 100km): 5.2 s. Average electrical autonomy of 95km
With its extra legroom in the long-wheenbase model, the flagship of Mercedes-Benz  is definitely designed to be THE chauffeur-driven vehicle.
The best and most luxurious hybrid vehicle for business passengers that want to make a positive impression.
∆ Smaller trunk because of the battery, so it has only 2 suitcases capacity !
Hotel client rate : between CHF 135.- and  CHF 150.-/h.
Mercedes E Class
Business Sedan: Mercedes E 220 or 250 4×4, suitable for 1-3 passengers with luggage.
The most economical luxury-class saloon, Mercedes Benz' best selling model, we propose it with leather seats, rear and side window shades.
For corporate and seasoned travelers.
Hotel client rate : between CHF 110.- and CHF 125.-/h.
Mercedes V Class
Mercedes V Class XL (V250 BlueTec, extended wheelbase for up to 7 passengers with luggage)
The new world standard people mover for small groups.
Can be configured with seats facing road or facing each other.
The V-class replaces the Viano. This new version features contemporary exterior styling touches that visually links it with other Mercedes-Benz passenger car models giving the V-class a true upmarket feel.
Hotel client rate : between CHF 130.- and CHF 145.-/h.
Mercedes Sprinter
Mercedes Sprinter
Luxury minibus for 12, 16 or 17  passengers (with luggage)
Speed limited to 100km/h.
Regulated driving time and limited working hours
The above prices are in Swiss Francs for services in Geneva.
All our vehicles are registered and insured for professional use and come with courtesy mineral water, magazines,  tissues, phone chargers and umbrellas.
Children seats and boosters available on request (free of charge).
220V plug for laptop charger on request.
Should a different vehicle suit your needs, we can provide a wide range of vehicles registered and insured for professional use.
Rates
If you think it is too expensive to hire a professional, wait until you find out how much you loose by hiring an amateur !
Leaders Limousines is dedicated to providing the best service by offering the highest quality fleet of immaculate limousines and luxury vans, employing only the best and most qualified local chauffeurs. But this has a cost and we can not compete with those who employ foreign underpaid and inexperienced chauffeurs offering a poor service.
Hourly rates
Hourly rates are between CHF 110.- and  CHF 200.-/h
with 25 km per our included.
Extra hours after 8 hours : between CHF 90.- and CHF 125.-
depending on the vehicle. (no additional km included)
Long term rent, daily service : if you don't spend all year in Geneva consider saving the costs of
– Buying a vehicle and losing money on reselling it;
– Taxes and insurance;
– Administration (technical control, fines);
– Handling of salaries and social security declarations ;
– Vehicle maintenance (gasoline, car wash, mechanics maintenance, body repair, changing winter/summer tires)
No fix charges when you are away, VAT refund for companies.
Please call +4122 347 4030 or send an e-mail for a quote.
Transfer rates
We have special transfer rates for the most popular and frequent destinations.
We did also drive clients as far as London or Gibraltar and proposed arrangements with stop over night for those very long distance transfers.
Please call +4122 347 4030 or send an e-mail for a quote.
You can also send a mail to get the access code to our public rates page www.leaderslimo.com/rates
Chauffeurs meals out of Geneva or night service fee for services between 20:00 and 7:00: lump sum CHF 35.- for the chauffeur. A surcharge of 20% may apply in other cities like Paris and Milan between 20:00 and 7:00.
French and Italian highway and tunnel tolls, parking fees charged at cost (CHF 5.- for airport parking). No other extras charged.
Excursion rates
Leisure round trips including 2 or 3 hours stop.
Most frequent destinations for excursions :
Annecy : 45 min. drive by highway and 2 hours stop included;
Chamonix – Mont Blanc : 1h. drive by highway, 3 hours stop included;
Gruyère : 1h20min. drive by highway, 2 hours stop included.
Geneva city tour : 1, 2 or 3 hours tour. With professional guide on request.
Lake Geneva tour (Lausanne, Lavaux, Montreux, Chillon, Evian, Yvoire) :
6 hours tour, ±3 hours drive, highway to Lausanne then lake road, several stops with lunch break in Mont Pélerin, Montreux, Evian or Yvoire.
We will be please to offer our CORPORATE RATE to all our regular clients.