General conditions
Prices are in Swiss Francs, 7.7% VAT (sales tax) included. For services in the Euro zone countries, the rate in Euro can be charged in Euro or converted into Swiss Francs, including the country's VAT.
Prices are per vehicle, for the agreed service, number of hours and/or kilometers;
Extras, such as parking fees, French or Italian highway and tunnel tolls, porters are charged at cost;
Gratuities are at the customer discretion and shall be given directly to the driver;
Transfers rates include 15 minutes complimentary waiting time. 30 minutes for airport pick ups;
To help you avoid waiting time charge, planes landing times are monitored. Commercial flights in Geneva via Geneva Airport official web site or mobile app, other cities via flightradar24. private flights directly with the handling agents, provided we were given the tail number.;
Within Geneva city limits, time runs from the planes announced landing time or from the scheduled pickup time until the car gets back to the garage. Out of Geneva time is counted from garage to garage;
Leaders Limousine will undertake all what is possible, within respect of security and laws, to provide service as agreed but can not be held liable for circumstances beyond it's control which may prevent it from doing so, such as delay due to lost luggage declaration, traffic congestion, hazardous weather conditions, etc.
All chauffeurs we employ hold a professional passenger transportation license which guarantees their driving competence. It also certifies that the drivers have passed the necessary health check.
All vehicles we use have less than 100'000 km and are registered for professional use that guaranties they successfully passed an annual technical check.
In Switzerland and France, all passengers are supposed to fasten their seat belt in all vehicles equipped with it. Your chauffeur will not force you to fasten it, but Leaders Limousines can not be held responsible if you don't.
Since 2011 it is forbidden by law to smoke in any vehicle used for professional transportation (Limousine, taxi, buses, trains, etc.)
The client is responsible for and shall fully indemnify Leaders Limousines in respect of damages caused to the vehicle or any additional costs or expenses incurred by Leaders Limousines due to any act, omission or default of the client when using our services;
We reserve the right, and delegate this right to our chauffeurs, to refuse to carry any person who is thought to be severely under the influence of alcohol or drugs and/or is considered to pose a threat to the chauffeur, the vehicles or passengers. Our company will not tolerate any physical or verbal abuse directed at its staff;
Settlement due within 30 days after receipt or credit card charged after completion of service.
No liability for damaged or lost luggage.
In case you wish to directly hire or employ a Leaders Limousines chauffeur, we reserve the right to levy a CHF 5'000.- fee to cover the costs of recruiting and training of an other chauffeur.
Geneva airport chauffeur meeting place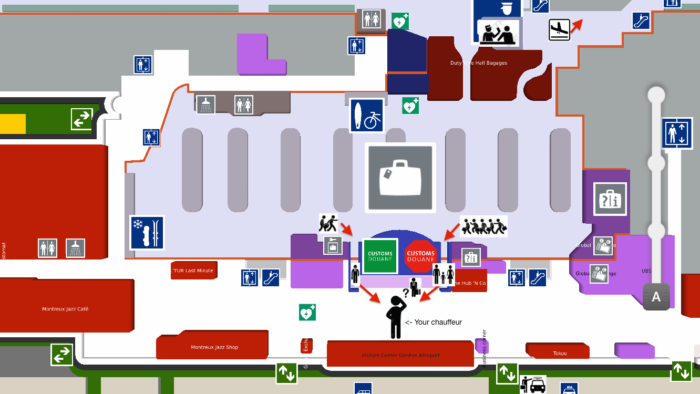 For commercial flights, our chauffeurs will meet the client in the airport arrivals hall, immediately after customs clearance, holding a name board with client's name or company's name. He will escort client to the vehicle and assist him in every possible way. (Business customers are welcome to submit their company logo we can use for the sign board).
Private jet clients will be escorted to the car by the handling agents. Tarmac meet are not allowed in Geneva, except for officials (via Geneva airport protocol service).
VIP Meet & Greet service can be arranged by us with airport officials. On-site coordinators or dispatcher are available on request and are charged on an hourly basis.
Policies
Cancellation policy
Reservations may be altered with reasonable notice.
No charge for cancellation >24 hours prior of service;
In Geneva:
less than 24h. 80%,
less than 3h. 100%
In other cities and countries:
less than 24h. 100%,
Other conditions may apply to some other countries we service and during special trips  or events like WEF, EBace, Watch fair, etc.
Additional charges may be incurred for deviations from the requested route, extra stops en route, waiting time, holiday and late night surcharges, etc.
Payment policy
Due to unpleasant experiences in the past,
credit card guaranty will be requested for all new clients and Credit cards may be pre-authorized to hold your reservation;
Invoice can be sent after each service or per month
(by e-mail as PDF attachment, within 24h after service if required);
Settlement due 30 days after receipt.
Credit card will be charged after completion of service.
For payment by 
– Bank transfer, no additional charge if settled within 30 days,
– Amex, 2.5% card commission may apply,
– VISA/Master 3.5% card commission may apply,
– Paypal 4% transaction commission may apply;
Confidentiality policy
Leaders Limousines is committed to protecting clients privacy. The personal information which we hold will be held securely in accordance with our security policy and the law. None of our client will be mentioned without agreement.